sustainable high-pressure 50% water-saving shower
We make the best water-efficient showers in the world. This is our 4th Kickstarter campaign. To pre-order Quattro and bring this campaign to life, back this project.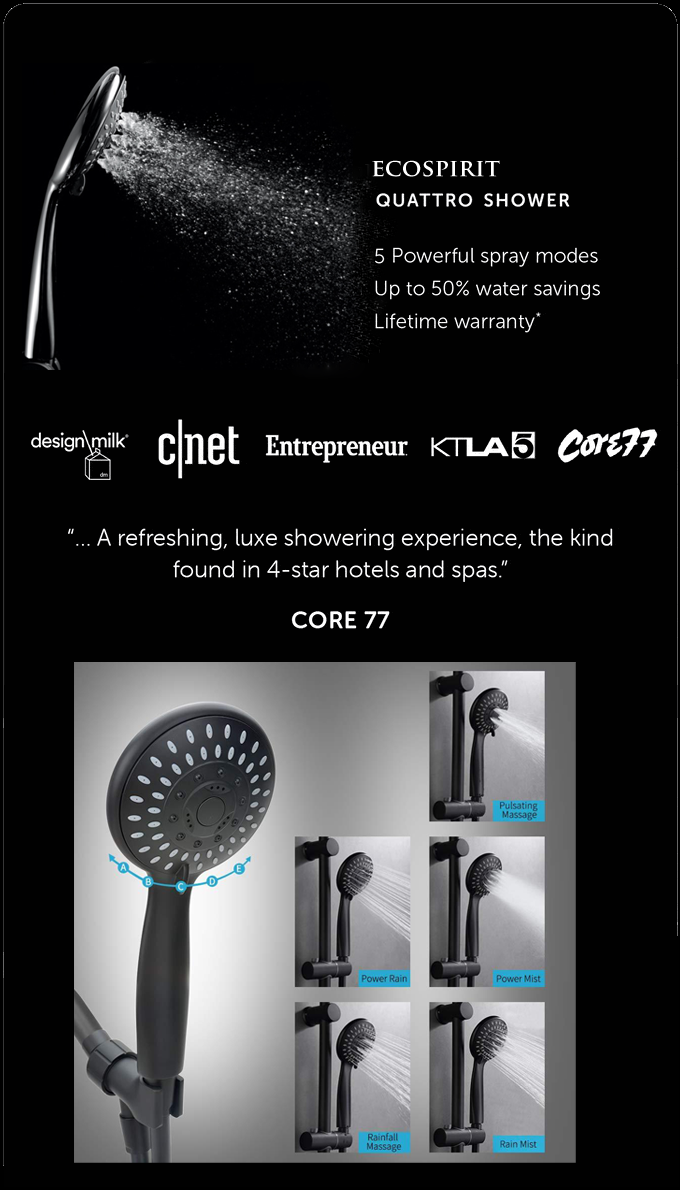 Quattro

101
Four unique and powerful spray modes
Easy DIY install -- less than 3 minute process that's as easy as changing a lightbulb
Universal compatibility
Two versions: Handshower and Rainshower
Limited lifetime warranty
Up to 50% water savings
5 design-forward finishes

Accessories
Quick-Dry Earth Mat

- mold resistant, fast drying

Nebia Adjustable Shower Arm

(NASA) - 18 in. of extra range of motion for more power and heat, and to fit more people in your house
Keeping scrolling to find out more about these awesome new accessories.
All The Shower, Half The Water
With Quattro, you get four fantastic shower experiences, but with a lot less water. All four modes flow less than 1.5 gpm, compared to a 2.5 gpm standard shower.
Even better? The average family of four will save over $300 per year on water and heating costs. Quattro pays for itself in just four months!
Four Fantastic Spray Modes
Benefits:
The perfect height for every person
Achieve an overhead rain shower
Keep your hair dry

NASA is also a major Nebia innovation -- it's the first shower arm to pivot up and down and hold its position without using cumbersome knobs. It pairs perfectly with both the Quattro Rainshower and Handshower, ensuring that your shower head is always where you want it to be.
Solving A Serious Problem Through Technology
When we started Nebia, we set out to create the world's best shower experience while preserving our environment and its natural resources.
Water is one of the most abundant substances on the planet, but 99% of it is trapped in salty oceans, polar ice caps, and on top of mountain peaks. Just 1% of the water on Earth is usable for the entire global population.
Today, 1.1 billion people worldwide lack access to clean water and a total of 2.7 billion find water scarce for at least one month of the year (Source: World Wildlife Fund). In our home state of California, we are once again experiencing extreme drought conditions, with devastating consequences.
Nebia by Moen Quattro is our biggest leap forward in conserving this precious resource. We accomplish this leap through our proprietary atomization technology. Hundreds of iterations, and innovation across three unique nozzle types, has led to a product that provides power, coverage and warmth, is extremely water efficient, and has achieved profound manufacturing advancements to become cost effective.
That is how we are able to bring a showerhead with this technology at a price point that was impossible in the past.
This is the shower we've always wanted to make. Thanks to you, our Kickstarter backers, we have been able to spend over 6 years in the lab engineering, developing, and refining our technology. The result is a shower that brings that clean, refreshing, and enjoyable showering experience found in the most luxurious bathrooms across the world, all while saving up to 50% of the water normally used.
Turning Past Trash Into Products For The Future
Nebia's mission is to make products that people love to use and that are better for the planet. This goes beyond water savings. From the materials used in our products to our packaging, we seek out innovations that reduce our environmental footprint and make a net positive impact on the world.
We have taken a giant step with Quattro. It is the first shower ever to have Recycled Ocean Plastic components.
This material is produced from fishing nets that often end up as trash in the ocean. It takes material science advancements, methodical engineering, and rigorous reliability testing to incorporate recycled materials into a product. But that's exactly what we're doing -- We are taking pollution from the environment and upcycling it into products that can last decades. And this is just the beginning for us.
Like our shower systems made of infinitely recyclable aluminum, and our shower curtain made from upcycled bottles, we are marching towards a future where we make all of our products out of truly sustainable materials.
And although the march to fully sustainable product development will be a long process, this is a critical first step. Together with Moen, we plan to double down in this upcycling process using more recycled materials in our products and to one day make our showers out of 100% sustainable materials.
Water, our driving force
Nebia is driven by an obsessive passion for creating better experiences, as well as a core belief that we can be more responsible consumers of Earth's most precious resource. We have been here with 3 cutting edge products that have disrupted the shower scene since 2018.
Quattro comes at a time when environmental sustainability is particularly top-of-mind, especially in our home state of California where drought conditions are continuing to worsen. Since its founding, Nebia's mission has centered around innovating nozzle technologies to bring water-saving technologies to market as fast as possible.
To date, the Nebia community has saved more than 300 million gallons of water with 50,000 units sold around the world–a number that will continue to grow with the increased accessibility of Nebia's technology thanks to the introduction of the more affordable Quattro.
Reviews
Nebia by Moen Quattro has been receiving rave reviews from some of its early testers.
Danielle & Tommy install the Quattro Handshower in just 5 minutes in their renovated airstream. They love getting clean with the Hard Spray after a long hike and how practical the long hose of the Handshower is for rinsing off their dogs!
Levi "Save the World" Hildebrand tests out the new Quattro Handshower, the "most exciting thing" they have in their bathroom right now:
Dennis and Emily from Mindful Home have the original Nebia by Moen in their master bedroom. They were looking for something just as eco-friendly but a little more affordable for their guest bathroom and the Quattro Rainshower was perfect! Dennis loves the Hard Spray for a "massage type of shower" whereas Emily is partial to the Angel Hair spray.
Easy Self Install
Quattro delivers an incredible shower experience which you and your family will enjoy for years to come — and you won't believe how easy it is to install.
From start to finish it only takes about 3 minutes. Watch the install video for the Handshower here:
Globally Compatible
A version of Quattro (Rainshower or Handshower) works in almost any shower setup in the world. The Quattro rainshower works on above head wall outlets, and ceiling outlets. The handshower works on above head wall outlets and waist-high wall outlets. This makes Quattro the first Nebia shower that is globally compatible. The table and graphics below can help you identify which Quattro is best for you. If you are still unsure, email support@nebia.com, with a picture of your shower, and our team can help you decide.
European Compatibility
Quattro is natively compatible in Europe. It also ships out of our new EU warehouse saving our European customers on duties and shipping!
European backers have supported Nebia since our first campaign. There are thousands of Nebias installed across Europe. Historically, the design of Nebia has meant separate SKUs for Europe, sometimes with more difficult installations, and our volumes dictated shipping these products from our warehouse in the US. With Quattro, Nebia is universally compatible. Whether you have an overhead shower, or hand shower set up, Quattro can work for you!
*Does not require cradle for install. Slider Bar not included. See FAQs for more info.
For waist-high outlets, the Quattro Handshower hose is installed directly on the outlet connection. The dock is not needed.
To hold the Handshower, you can use a slider bar (often already installed in waist-high set ups) or a fixed dock. You can find more information about slider compatibility in our FAQs.
Australian Compatibility
Nebia is finally natively compatible in Australia! Just take Quattro out of the box, and install it.
Australian backers have been enthusiastic supporters of Nebia since our first campaign. Historically, the shower system design of Nebia has meant separate SKUs, and installs, for Australia. With Quattro, Nebia is universally compatible. Whether you have an overhead shower, or hand shower set up, Quattro can work for you! Just unscrew your current shower, and install Quattro.
We are working with our manufacturing patterns to ensure rapid delivery of all pledges despite global supply chain congestion. Nebia by Moen Quattro pledges in the United States will begin shipping in September and most finishes will ship by the end of October (Brushed Gold and Oil-Rubbed Bronze will start shipping in October and finish by the end of November). We estimate that the first 2,000 units will ship to U.S. backers before the end of September. Rest of world pledges will begin shipping in October and finish by the end of November.
The Earth Mat and NASA will ship between mid September and end of November. We will try to ship your entire pledge all at once but some products may ship sooner than others depending on the finishes of your units and add-ons selected.
Please note that your delivery date will depend on your backer number, in addition to some other factors. For example, some finishes might be ready before others, certain regions might ship before others, and we will not ship your pledge until you have completed your Backerkit survey. That said, we will do everything in our power to deliver your pledge as soon as possible!
For this campaign, we will offer an expedited shipping option to select countries as an add-on that can be selected after your pledge. The unprecedented congestion at ports all over the world has more than doubled the time it takes to ocean freight. Due to this longer than usual transit time, we have enabled an option to expedite shipping, which air freights your reward directly from our manufacturer. This option respects every backer's place in line, however it allows you to choose how your reward gets shipped when it is ready. If you're pledging for multiple Nebia by Moen Quattro units you will have to increase the quantity of the expedited shipping add-on to match the quantity of Quattro units pledged.
FAQs
Will Nebia by Moen Quattro wash shampoo and conditioner out of my hair effectively?
💧🚿 Quattro quickly and efficiently rinses shampoo out of all hair types. Thanks to its four adjustable sprays you'll have no trouble finding the setting that works best for you. Pro tip: We recommend our Hard Spray or Angel Hair for thick and curly hair.
Can I really install Nebia by Moen Quattro myself?
💧🚿Yes, you can! The DIY installation process is our easiest yet, only taking about 3 minutes. Watch our installation videos and find out more here.
Can I easily uninstall Nebia by Moen Quattro?
💧🚿Nebia by Moen Quattro was designed for an easy DIY install and uninstall, making it perfect for renters! To uninstall both showers, just unscrew counterclockwise. A wrench can be helpful to some.
How should I clean Nebia by Moen Quattro?
💧🚿We recommend cleaning your Nebia by Moen Quattro with a mild soap, rinsing thoroughly with warm water and drying with a clean, soft cloth. For hard water, you can use white vinegar. Never use cleaners containing abrasives (including abrasive sponges or steel wool), ammonia, bleach or sodium hypochlorite, organic solvents (e.g. alcohols) or other harsh chemicals (e.g. lime scale removers) to clean, as they may damage the finish.
What are the pressure (psi) and GPM (gallons per minute) requirements?
💧🚿If you live in an area with low water pressure, don't worry. Nebia by Moen Quattro excels in homes with water pressure as low as 20-psi (1.4-bar). The flowrate range is 1.2-GPM to 1.5-GPM and will depend on the mode and pressure.
How much energy does Nebia by Moen Quattro save compared to a standard shower?
💧🚿Quattro saves around 30% of the heating energy used by a standard shower.
How much water have Nebia users saved?
💧🚿Nebia users have currently saved over 300 million gallons of water. With your help we will meet our goal to save 1 billion gallons by 2021!
Will my shower be compatible with Nebia by Moen Quattro?
💧🚿Quattro screws on just like a normal shower head, and the handheld version can be used with a waist-high shower and many slider bars.
How hot is it compared to other Nebia Showers?
💧🚿Quattro is as much as 30% hotter than Nebia by Moen, making it our hottest shower yet.
Does Quattro ship with a slider bar?
💧🚿Quattro does not ship with a slider bar, however it works with many slider bar models. To guarantee it works with yours we recommend measuring the top portion (or widest end) of the holder. A slide bar holder measuring anywhere between 0.85 - 0.90 in [21.50 - 23 mm] in diameter will work with a NbM Quattro Handshower.
Is Nebia by Moen Quattro pet-friendly?
💧🚿The Handshower version is! Its 72" flexible hose and four spray modes make it ideal for whenever bathtime rolls around for your furry friend.
Team story
We are Nebia, a team of passionate engineers, designers, and creative folks who care deeply about the future and are committed to making everyday products better in every way.
Since starting Nebia, our mission has been to bring the world's best and most sustainable shower to as many people as possible. Six years ago, we introduced the Nebia Spa Shower 1.0 on Kickstarter and you helped launch our vision into reality.
After receiving feedback from thousands of shower lovers and two additional years of R&D, we launched the next-generation, the Nebia Spa Shower 2.0.
We then partnered with Moen, a leader in the shower industry for over 70 years, to help us scale our technology like never before. By coupling our atomization expertise with Moen's world-class design and manufacturing capabilities, we created Nebia by Moen, and launched it in January 2020.
Now we're back with the next evolution -- Nebia by Moen Quattro -- our first high-pressure and water savings showerhead with four unique modes. With your support, we will bring Nebia's patented water-saving technology to more homes than ever and surpass 6 billion gallons of water saved in the coming years.
It takes a village to bring a new product to life
One of the most fulfilling aspects of the journey is working alongside extraordinary people who share the passion for making better products that the world needs. A special thank you to Moen for their close-knit partnership and for their support throughout the process. Special thanks to Ryan Snitil for his devotion to building this product, as well as Mark Bors, Ryan Toohey, Lori Marks, Jayson Simeon, Adam Valco, Grace Furnas, Brian Oldag, Maurice Gray and all the Moen people who have helped bring this vision to life.
Backers, we wouldn't be here without you. We want to extend our deepest thanks to those of you who have supported Nebia since the beginning. Your early support, patience, generous feedback, and belief in our mission has enabled us to refine our atomization technology and develop a product that takes our technology into more homes than ever before with its more accessible price. Thanks to you we've been able to make great products that are better for the world, saving over three hundred million gallons of water.
And to those of you who are joining us for the first time, welcome! With your help, we will surpass 6 billion gallons of water saved in the coming years.💧
Environmental commitments
Visit our Environmental Resources Center to learn how ECOSPIRIT encourages sustainable practices.
Long-lasting design
Nebia by Moen Quattro has passed reliability and durability testing with flying colors. We also have independently certified the shower head to the ASME A112.18.1 standard (industry standard certification for shower heads) We have done thousands of hours of in house testing beyond ASME A112.18.1. Including: • Burst tests • Life cycle • Flow rate • Drop tests • Back flow • Loading of joints • Among others We have a limited lifetime warranty in the US for both the Rainshower and the Handshower. The materials have been thoroughly tested to ensure decades of longevity.
Reusability and recyclability
• Added How2Recycle standard labels to clearly show users how to recycle. • Packaging is made from paper to ensure easy and efficient recycling anywhere in the world. • FSC certified paper. • Pulp trays, instead of plastic, for easy recyclability or composting. • Ocean recycled plastic pulls waste out of the ocean and landfill to make components of the shower. • At end of life the majority of the shower head can be disassembled to component materials. This will allow for recycling of the parts, vs trash for mixed material parts. (Almost all of the shower head can be disassembled with a screwdriver)
Sustainable materials
• Ocean Plastic. • Pulp tray and FSC paper. • Brass in plumbing connections.
Environmentally friendly factories
All factories have to pass a rigorous supplier evaluation and sign a supplier code of conduct enforced by our partner, Moen. The supplier code of conduct includes standards around: • Working Conditions/Health and Safety • Labor practices • Discrimination • Working Hours • Living wages and Benefits • Environmental • Management Systems • Anti-Corruption and Anti-Bribery • International Trade Compliance • Suppliers/Contractors Specifically around the environment, regardless of where the supplier is based, the products supplied comply with all applicable environmental regulations, including, but not limited to California Proposition 65, California Air Resources Board regulations, European regulations and directives, such as, but not limited to, REACH, RoHS and WEEE.